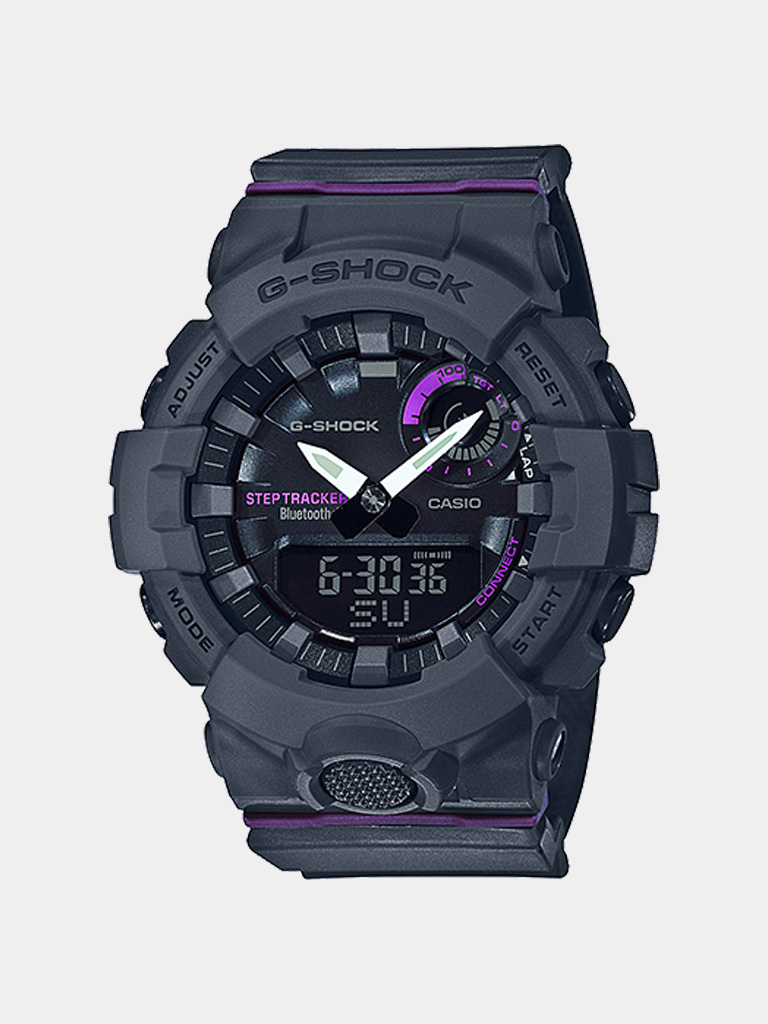 Sale
G-Shock GMA-B800-8ADR
රු76,900.00

or 3 installments of
රු20,506.67
with

Introducing the latest additions to the G-SHOCK S series G-SQUAD* lineup of sports watches that are designed and engineered to make daily training more fun and effective.
The size of the new GMA-B800 is approximately 3 mm smaller than the case of the popular G-SHOCK GBA-800, which makes it the perfect choice for those with smaller wrists and those who prefer a more compact watch. This model can also be combined with the GBA-800 as a his-and-hers pair.
The colors of these new models include basic black or white accented with popular rose gold highlights, which are hues that go well with everyday fashions, and gray or yellow, both of which look great with training wear. The watch can Bluetooth? link with a smartphone, which makes sports activities even more fun, while the G-SHOCK Connected phone app provides access to a number of functions that support workouts. Daily health and fitness support functions include a 3-axis accelerometer that keeps track of step counts, a timer that lets you create up to 20 combinations of five timers each, memory for up to 200 lap records, and more. G-SHOCK Connected also makes it possible to maintain step count logs with five exercise intensity levels, calculate the calories you burn, specify a daily step target, create timer combinations and send them to the watch, store stopwatch measurement data, view data, and more. All of this combines to help you plan and record your workouts, making them more effective and enjoyable.
Other features include app-based auto time setting correction and more for more efficient timekeeping, and an Auto Double LED Light that facilitates workouts in areas where lighting is dim.
Out of stock
Case / bezel material: ResinResin BandNeobriteShock ResistantMineral Glass200-meter water resistanceDouble LED lightLED light for the face (Auto LED light, Super illuminator, selectable illumination duration(1.5 seconds or 3 seconds), afterglow)LED backlight for the digital display (Auto LED light, Super illuminator, selectable illumination duration (1.5 seconds or 3 seconds), afterglow)Mobile link (Wireless linking using Bluetooth?)Step count using a 3-axis acceleration sensor: 0 to 999,999 step count display rangeStep Goal Progress Display (step count goal setting range: 1,000 to 50,000, 1,000-step increments)Step Count Graph: Hourly step count for the past 11 hours on a 6-level graphStep indicatorPower Saving: Auto sensor sleep state entry after fixed period of non-activityDual time (Home time swapping)1/100-second stopwatchMeasuring capacity:0'00″00~59'59″99 (for the first 60 minutes)1:00'00~23:59'59 (after 60 minutes)Measuring unit:1/100 second (for the first 60 minutes)1 second (after 60 minutes)Recorded data: Up to 200 records (measurement start month, date, lap/split times)Target Time alarm up to 10 Target Time settingsCountdown timerTimer for interval measurement (up to five time settings)Measuring unit: 1 secondInput range: 00'00" to 60'00" (1-second increments)Others: Auto-repeat (number of repeats settable from 1 to 20), auto-startHand shift feature (Hands move out of the way to provide an unobstructed view of digital display contents.)5 daily alarmsHourly time signalFull auto-calendar (to year 2099)12/24-hour formatButton operation tone on/offRegular timekeepingAnalog: 2 hands (hour, minute (hand moves every 20 seconds))Digital: Hour, minute, second, pm, month, date, dayAccuracy: ?15 seconds per month (with no mobile link function)Approx. battery life: 2 years on CR2016
| | |
| --- | --- |
| Color | Black |
| Strap Material | Resin |
| Glass Material | Mineral |
| Water Resistance | 200m |
| Display Type | Ana-Digi |
| Case Material | Resin |
| Thickness | 16mm |
| Case Size | 45.2mm |
| Weight | 52g |
| Warranty | 1 year |